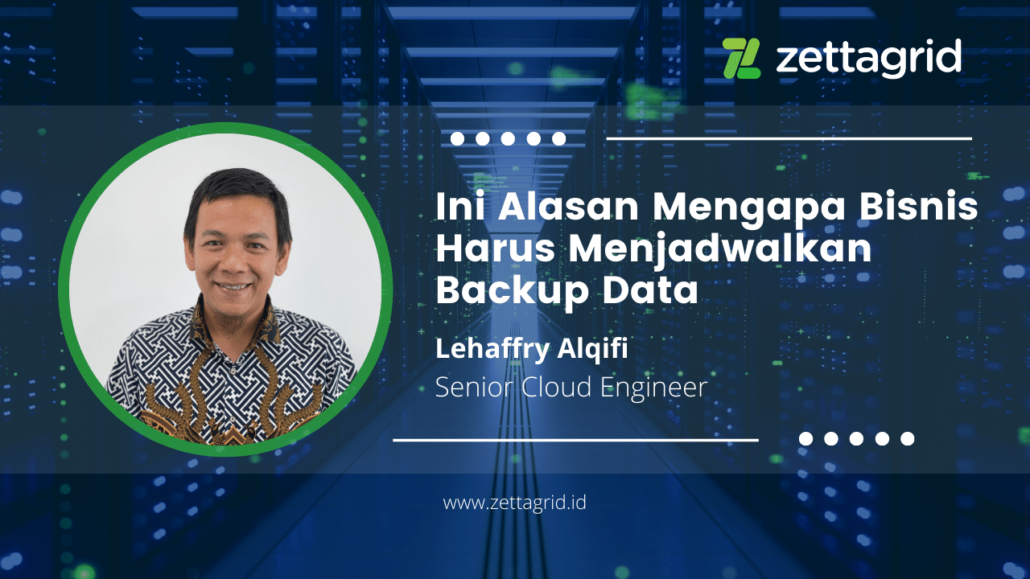 Ini Alasan Mengapa Bisnis Harus Menjadwalkan Backup Data
Pernah membayangkan, bagaimana jadinya jika manajemen kehilangan data bisnis? Nah, pastinya manajemen tidak hanya dilanda kepanikan, tapi juga kekhawatiran akan tantangan kelangsungan bisnis kedepan. Apa jadinya jika kelangsungan bisnis tidak disertai dengan sistem dan data penunjang operasional bisnis? Tentu bisnis tidak hanya mengalami downtime, tetapi juga kerugian. Oleh karenanya, Anda harus memiliki rencana maupun strategi agar data perusahaan Anda aman. Sebab, bisa saja faktor-faktor eksternal seperti di bawah dialami oleh bisnis Anda:
Bencana alam, kita tidak akan pernah tahu seberapa besar bencana yang akan terjadi seperti banjir, gempa bumi, kebakaran dan lain sebagainya. Siapa yang menjamin perangkat server dan storage Anda tetap aman
Malware, Anda pasti mengetahui malware yang baru-baru ini menghantui dunia teknologi yaitu ransomware wanna cry. Bayangkan, jika system Anda terinfeksi oleh malware satu ini ataupun malware lainnya, tentu saja anda tidak dapat mengakses data bisnis Anda. Sehingga, Anda bisa bayangkan berapa banyak kerugian yang akan dialami oleh bisnis.
Human Error, sebagaimana yang telah kita pahami dengan baik bahwa kita hanyalah manusia yang tidak pernah luput dari kesalahan. Meskipun sudah teliti dan berhati-hati, namun human error tidak bisa ditiadakan. Risiko masih tetap ada walaupun kecil.
Kerusakan data, banyak faktor-faktor lainnya yang mungkin terjadi dan menyebabkan data rusak seperti kehilangan data atau lonjakan listrik, ruang perangkat yang terlalu panas atau terlalu dingin, bug perangkat lunak aplikasi maupun system operasi, dan lain sebagainya
Jadi, bagaimana strateginya?
Strategi yang Anda perlukan adalah dengan melakukan backup secara rutin dan terjadwal, sehingga Anda akan lebih tenang apabila terjadi hal-hal tidak terduga. Hilangnya data bisa terjadi kapan saja dan dimana saja, karena bencana alam tidak membutuhkan persetujuan Anda untuk terjadi. Oleh karena itu konsistensi data backup sangat diharuskan. Jika bencana terjadi dan data backup terakhir anda adalah dua bulan yang lalu, maka tentu perusahaan Anda akan kesulitan untuk memulihkan data.
Strategi berikutnya adalah dengan memilih tools ataupun software backup yang mempunyai kemampuan untuk melakukan backup rutin dan terjadwal. Veeam Backup and replication adalah solusi backup yang tepat untuk hal ini. Selain bisa mengatur backup secara rutin dan terjadwal, tools ini juga menghadirkan kemudahan dalam mengelola jadwal backup sesuai dengan apa yang perusahaan Anda inginkan.
Mengatur jadwal backup
Pada langkah Schedule, tentukan jadwal backup sesuai dengan apa yang Anda inginkan.
Pilih dan centang Run the job automatically, jika ini tidak di centang, maka Anda harus mengatur jadwal backup data secara manual.
Menentukan pengaturan backup:
Untuk melakukan backup setiap hari, setiap hari kerja saja, atau pada waktu-waktu tertentu, pilih Daily at this time. Klik pada area sebelah kanan untuk mengatur jadwalnya.
Untuk menjalankan pekerjaan backup sekali sebulan pada hari tertentu, pilih Monthly at this time. Klik pada area sebelah kanan untuk mengatur jadwalnya.
Untuk melakukan backup secara periodik dengan interval waktu yang telah ditentukan, pilih Periodically every. Pada bagian sebelah kanan, pilih unit waktunya: Hours or Minutes.
Untuk pekerjaan backup berantai pilih After this job, umumnya pekerjaan backup akan dimulai setelah backup lainnya selesai. Ketika pekerjaan A selesai, maka pekerjaan B dimulai dan begitu seterusnya.
Pada Automatic retry, pilih Retry failed items processing untuk menentukan berapa kali backup yang akan diulang secara otomatis jika proses backupnya gagal. Sedangkan Wait before each retry attempt for merupakan jarak waktu untuk pengulangan proses backup yang gagal.
Pada Backup window, centang Terminate job if it exceeds allowed backup window kemudian klik Pada layar Time Periods, tentukan waktu yang diperbolehkan untuk menjalankan backup. Jika proses backup melewati waktu yang diperbolehkan, maka backup akan dihentikan secara otomatis.
Itulah beberapa langkah yang bisa Anda ikuti dalam menjadwalkan backup menggunakan Veeam Backup. Mudah, bukan?
Mari jadwalkan backup Anda segera, untuk amankan data dari risiko kehilangan yang tidak terduga. Bila Anda memiliki pertanyaan seputar Veeam Backup atau solusi cloud lainnya, Anda dapat menghubungi kami di sales@zettagrid.id atau klik di sini.
https://www.zettagrid.id/wp-content/uploads/2023/03/ZETTAGRID_color_white_brandmark_3_vertical_v1-300x138-1.png
0
0
admin
https://www.zettagrid.id/wp-content/uploads/2023/03/ZETTAGRID_color_white_brandmark_3_vertical_v1-300x138-1.png
admin
2022-04-25 19:15:53
2023-06-12 10:25:21
Ini Alasan Mengapa Bisnis Harus Menjadwalkan Backup Data