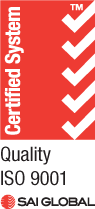 Our top priority is to ensuring that your data is secure. Corporate are often concerned about running workload in a shared cloud environment. Zettagrid offers a comprehensive solution to meet strict security requirements that often higher than internal corporate  security requirements. We provide server, network and environmental data security controls. Using both VMware and Microsoft security structures and protocols we securely isolate each customer in their own management and operational environment.
---
Enterprise-grade
Your state-of-the art virtual servers or virtual data centers will be hosted within a secure environment that has 3 levels of electronic security, physical security, network separation, and server & storage isolation.

Peace of mind
With the very best of security, firewalls, backup and disaster recovery options you will be able to sleep easy with knowledge that your infrastructure and data is safe and trusted hands.

Data sovereignty
You will own your data, not us. All infrastructure and data is securely located in Indonesia and under the jurisdiction of Indonesia privacy, copyright and company legislation. Read our Data Sovereignty Statement

---
Three levels of security
Access is provided through account access security, hypervisor security to administer your servers, and VM level security for local access on your server i.e. root or local admin password.
Private network areas
Network security is maintained using dedicated secure subnets, IP/MAC hijack protection, broadcast traffic leakage prevention, encrypted VPN tunnel options, and layer 2 or 3 connectivity options.
Secure storage silos
Each storage subsystem is isolated, with no access from other customer environments. Data is stored as secured images, not individual customer files. Furthermore, our staff cannot access customer data.
---
Physical security
Our platform's availability zones and pops are located in Tier-2 and Tier-3 rated datacenters. Each employs a minimum of swipe/tap card access, video surveillance, locked racks and much more.
Compliance Statement
Please contact a Zettagrid sales representative if you require an audited PCI Statement of Compliance.
SECURITY OVERVIEW (PDF)MEMBER OF APJIIMEMBER OF PSE KOMINFOMEMBER OF ACCI