Zettagrid Indonesia Gelar Techverse Event 2023 Bertajuk "The Future of Data Protection"
Jakarta, 9 Februari 2023 – Cloud service provider, Zettagrid Indonesia telah berhasil menggelar event Techverse 2023 secara offline di Hotel JS Luwansa Kuningan pada Kamis, 9 Februari 2023. Event ini didukung oleh Veeam Indonesia selaku partner cloud solutions dari Zettagrid dan bertujuan untuk berbagi insight terbaru seputar cloud dan backup serta mempererat kerja sama dengan seluruh partner maupun calon partner.
Tiga pembicara dihadirkan di event ini untuk mengisi sesi presentasi. Pertama, ada Bapak Dolly Indra selaku GM Sales & Marketing Zettagrid Indonesia dengan topik Grow Veeam Solution with Zettagrid yang memberikan penjelasan mengenai manfaat dan keuntungan dari program partner Zettagrid.
Kedua, ada dari Bapak Teddi Suryadi, Cloud Consultant Zettagrid Indonesia dengan topik Empower Customers to Secure Businesses from Ransomware yang memaparkan pentingnya suatu perusahaan melakukan backup agar terhindar dari kehilangan data secara permanen akibat serangan ransomware atau kejahatan cyber lainnya.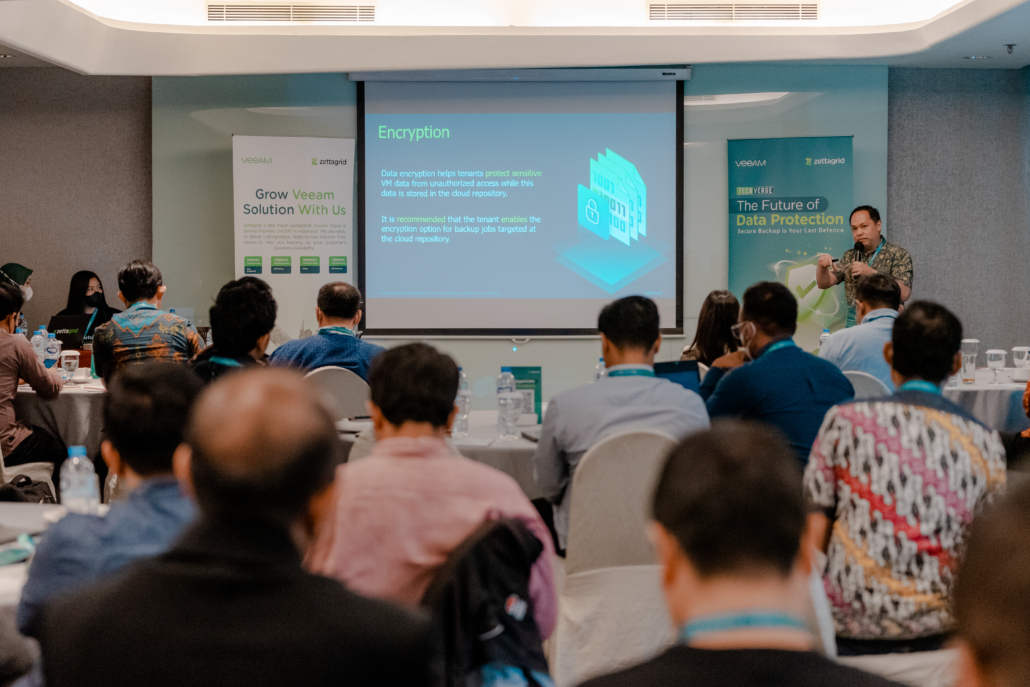 Pembicara ketiga, Bapak Newin Atmarumeksa, selaku Technical Consultant dari Veeam Indonesia membawakan topik Simply Secure Hybrid Cloud Solution With Zettagrid & Veeam. Salah satu penjelasan yang disorot adalah penggunaan solusi Veeam backup dari Zettagrid yang merupakan satu-satunya cloud provider dengan sertifikasi platinum dari Veeam. Hal ini membuktikan bahwa solusi cloud yang ada di Zettagrid terjamin keamanan dan kualitas yang diberikan kepada para klien.
Selain sesi presentasi tersebut, event ini juga mengadakan sesi spesial yaitu Zettagrid Partner Award yang merupakan pemberian penghargaan kepada partner terbaik dengan dua kategori, The Most Contributing Partner with Highest Revenue, yang berhasil diperoleh PT Exa Teknologi Indonesia dan kategori The Most Contributing Partner with Accelerate Growing Clients, yang berhasil diperoleh PT Daya Cipta Mandiri Solusi. Kemeriahan acara juga ditambah dengan adanya pemutaran undian peserta untuk mendapatkan doorprize berupa JBL Speaker, Smartwatch, dan Samsung Smartphone.
Informasi lebih lanjut tentang solusi cloud dan backup dari Zettagrid Indonesia dapat diakses melalui kanal Cloud Service Provider Indonesia – Reliable, Trusted, Secure – Zettagrid.
0
0
admin
https://www.zettagrid.id/wp-content/uploads/2023/03/ZETTAGRID_color_white_brandmark_3_vertical_v1-300x138-1.png
admin
2023-02-16 11:31:34
2023-06-12 10:25:00
Zettagrid Indonesia Gelar Techverse Event 2023 Bertajuk "The Future of Data Protection"